Serbian Orthodox Saint George Cathedral
Saint George Cathedral is located at the beginning of Pašićeva Street near the the Eparchy. Orthodox Cathedral was most probably built in 1734. The material they used was stone and clinker brick. The first design of the church is lost, and its original appearance is not known today. After the Uprise in 1849, the church was totally destroyed. Reconstruction followed soon afterwards, and it was already fully restored from 1851 to 1853. According to designs made by Gustav Šaibe, an architect from Pešt, a new belfry was erected, and additional two windows were built in the apse. The church then went through a period of slow decay, only to be renewed in 1902 by Mihail Harminc, an architect from Budapest. New bells were ordered in Budapest for the new, much higher belfry, new furniture was ordered as well. The newly restored church was also decorated with new paintings done by Stevan Aleksić, iconostasis woodcarvings were crafted by 'Retej and Benedek' from Budapest, historical paintings over the chores and two big icons were painted in Vienna by Paja Jovanović, famous Serbian Painter.
Crucifix in the Saint George's Orthodox Cathedral churchyard or the Epiphany Cross made of pink marble is the oldest preserved public monument in the city. It was set up in the second half of the 18th century, at the corner of present-day Zmaj Jovina and Mileticeva Street near the city well. This 500cm tall crucifix was carved by an unknown artist and restored in 1867 by Novi Sad philanthropist Marija Trandafil when the crucifix was relocated in front of the Eparchy. In the Saint George Cathedral the crucifix was located since 1957.
Excursions that include visit to the Church: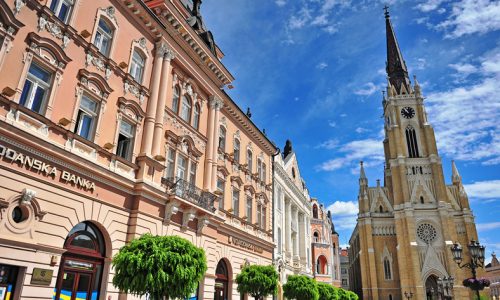 ---
Novi Sad – riches of multiply nations
Serbian "Athens"
Petrovaradin Fortress
EXIT festival – symbol of the city
---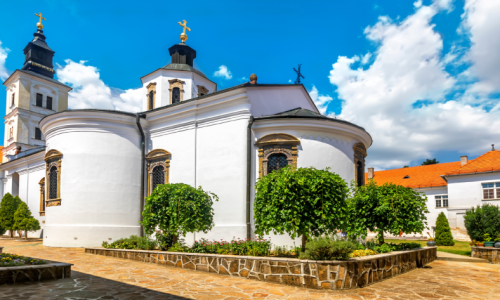 FROM49€
---
Novi Sad – the multi-ethnical richness
Petrovaradin Fortress
Wine-tasting included
S. Karlovci – architectural gem stone
---