Petrovaradin Fortress
Archaeological research has found 200 000-year-old traces of the life at the location of today's Fortress at the Petrovaradin Hill on the right bank of the Danube River. Written notes prove that Celts, Romans and Hungarians had military fortifications here and that Hapsburg monarchy started to build the Fortress in order to protect southern borders from Ottomans. One legend says that the name of the Fortress "Petrovaradin" stems from three words: petra – the rocks in Latin, var – Hungarian word for a city and Turkish din that stands for faith. So Petrovaradin in some romantic sense may mean "city on the rocks strong as faith". Petrovaradin Fortress covers 112 hectares of the territory and was built in the period between 1692 and 1780. The most famous so-called Belgrade gates originate from 1753 and are done in classic style. They welcome visitors from Novi Sad arriving via Varadin Bridge.
The Fortress has Upper and Lower parts. The upper Fortress is marked by the tower with the clock built at the place of previously destroyed clock in the middle of 18th century. The Clock is over 2 m in diameter. Among unique attractions of Petrovaradin Fortress there are also underground military galleries with the defense line of loopholes and communication tunnels distributed at four levels, 16 km of total length. Construction of this complex system was completed in 1783. Corridors, rooms of different purposes, one-kilometre-long defense lines are open to visitors. At the bottom of the Fortress there is the Roman Catholic Church of Saint Jurij with the nunnery in baroque style. The Baroque Lower Fortress is an architecture gem still unexplored and preserves history and myth beneath all of those dilapidated facades. Southern edge of Petrovaradin hosts Tekija where Roman Catholic Church dedicated to St Maria Major is located.
The impressive fortress on the rocks and the Danube River contributed to giving the name "Gibraltar on the Danube"to Petrovaradin Fortress. The Fortress Is demilitarized completely in the middle of the 20th century, was proclaimed a historical monument and was put under the governmental protection. The Fortress nowadays hosts Museum and Archive of Novi Sad, hotels, restaurants, galleries, observatory, planetarium and other objects of interest.
Excursions that include Petrovaradin: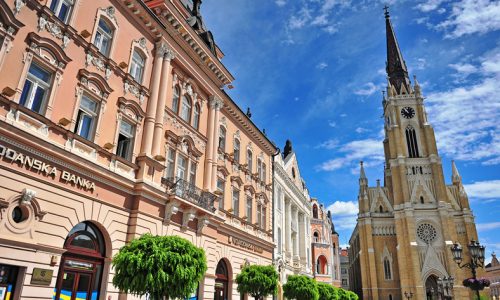 ---
Novi Sad – riches of multiply nations
Serbian "Athens"
Petrovaradin Fortress
EXIT festival – symbol of the city
---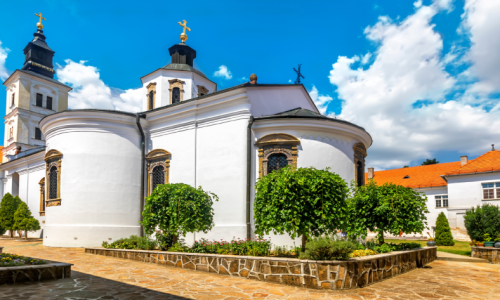 FROM49€
---
Novi Sad – the multi-ethnical richness
Petrovaradin Fortress
Wine-tasting included
S. Karlovci – architectural gem stone
---