Novi Sad Eparchy "Vladičanski dvor"
At the place where Zmaj Jovina street divides in two directions to Danube and Pašićeva the Orthodox Eparchy of Bačka district or so-called "Vladičanski dvor" is situated. The project of the building was done by architect Vladimir Nikolić in 1901 during service of Father Mitrofan Šević. The Eparchy is projected in Serbian- Byzantine style and approximately the same place where previous Eparchy was built during the service of Visarion Pavlović in the 18th century. Previous Eparchy was destroyed during Novi Sad bombing from the Fortress on the 12th of June 1849. The new Eparchy was built by builders from Subotica Reich and Molzer.
Facade coating is made of red brick and decorated with yellow tiles. Sculptor Julije Anika has done exterior decoration in pseudo-Moorish style. Three coats of arms of the Eparchy are located on the facade, portal wall and courtyard wall. Lots of portraits, carved furniture and many other cultural and historical values are preserved inside the Eparchy. Father Mitrofan Šević monthly organized meetings, and his guests were important citizens of Novi Sad. One of his usual guests was Serbian poet Laza Kostić and officers from the Fortress. When Aleksandar Karađorđević was regent, he visited the Eparchy in 1919 and went out on the balcony. Novi Sad citizens were quite surprised and inspired to see him. In front of the Eparchy in 1984 a monument to the most famous children poet Jovan Jovanović Zmaj ("zmaj" in Serbian means "dragon") the street named after was unveiled. Bronze figure on granite pedestal is 230 cm high.
Excursions that include visit to the Eparchy: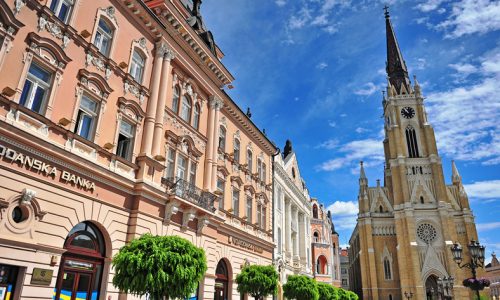 ---
Novi Sad – riches of multiply nations
Serbian "Athens"
Petrovaradin Fortress
EXIT festival – symbol of the city
---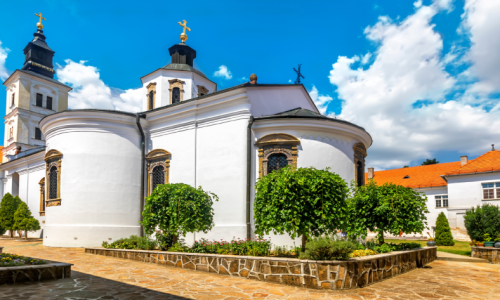 FROM49€
---
Novi Sad – the multi-ethnical richness
Petrovaradin Fortress
Wine-tasting included
S. Karlovci – architectural gem stone
---