Mikser Festival, Belgrade
Mikser is a non-for-profit network of professionals and enthusiasts involved in production of various trans-cultural projects dedicated to development of creative economy in Serbia and the region. Mikser organizes competitions, exhibitions, cultural events, conferences, educational courses and lectures. The results of Mikser's collaborations are projects that establish dialog between contemporary global tendencies and local creative scene and industries.
Mikser Festival invites creative people to recognize their 'breaking point', to talk about their frustrations related to creative work in Serbia, the Balkans and the world today, to network their creative impulses and strengthen their desire for change and, in a constructive manner, to contribute to solutions for the future.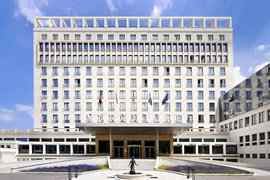 Transfer
Private transfer – Car
Group transfer – Minivan
Group transfer – Mini bus
Group transfer – Coach